ON-SITE
DETECTION
To use our tests the user simply wipes over the area suspected of contamination with a dry surface wipe, with a wet wipe or collects a water sample. They then apply our detection liquid solution to the dry surface wipe, or water sample.
DEFINITIVE
RESULTS
If any nuclear matter is detected at or above trace level then a colour will show on the saturated surface wipe, wet wipe or water test in under one minute. The colour standard card is used to match to the detected matter.
ONGOING PRODUCT
DEVELOPMENT
Our research and development is driven by our customers' needs. We collaborate with end users to develop the products they need. For example water tests and wet wipes will be coming soon. Please get in touch with us, we are always keen to understand your needs.
simple and easy-to-use colorimetric detection
These instructions show how to use our Single Use Ampoules test in four quick and simple steps:

Wear appropriate PPE​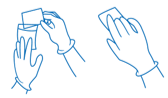 Remove Dry Surface Wipe and collect a sample from the area suspected of contamination.
Apply Codeac Liquid Solution to the Dry Surface Wipe until the Wipe is saturated to the edges.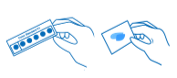 Allow 60 seconds for results and use the Color Standard to identify any colorimetric change or transition. A color change indicates a detection.
Codeac Solutions Detects These
Elements
Element
Codeac Non-Detect
Detection Colour
Uranium


Plutonium


Americium


Cobalt


Primary Transition Metals


Uranium
Uranium is a chemical element with symbol U and atomic number 92. It is a silvery-grey metal in the actinide series of the periodic table. The most common isotopes in natural uranium are uranium-238 and uranium-235. It occurs naturally in low concentrations of a few parts per million in soil, rock and water, and is commercially extracted from uranium-bearing minerals such as uraninite. Many contemporary uses of uranium exploit its unique nuclear properties particularly in the nuclear energy generation sector however there is a range of use including military high-density penetrators and armour packages.
Plutonium
Plutonium is a radioactive chemical element with the symbol Pu and atomic number 94. It is an actinide metal of silvery-grey appearance that oxidizes when exposed to air and forms a dull coating when oxidized. Plutonium is the element with the highest atomic number to occur in nature. Both plutonium-239 and plutonium-241 are fissile, meaning that they can sustain a nuclear chain reaction, leading to applications in nuclear weapons and nuclear reactors.
Americium
Americium is a synthetic radioactive chemical element with the symbol Am and atomic number 95. It is a relatively soft radioactive metal with silvery appearance and its most common isotopes are 241Am and 243Am. It is widely used in commercial ionization chamber smoke detectors, as well as in neutron sources and industrial gauges.
Cobalt
Cobalt is a chemical element with the symbol Co and atomic number 27. As with nickel, cobalt is found in the Earth's crust only in a chemically combined form and once processed is a hard, lustrous, silver metal. Cobalt-60 is a radioisotope used as a radioactive tracer and for the production of high-energy gamma rays for radiotherapy, sterilization of medical supplies as well as industrial radiography
Nickel
Nickel is a chemical element with symbol Ni and atomic number 28. It is a silvery-white lustrous metal with a slight golden tinge. It is found naturally in the environ- ment, but concentrations may be increased by human pollution such as nickel-plated faucets leaching into drain water, mining and smelting may dump nickel into wastewater catchments. Nickel metal is classified as a suspect carcinogen there is consistency between the absence of increased respiratory cancer risks predominantly in people exposed to metallic nickel.
Copper
Copper is a chemical element with the symbol Cu and atomic number 29. It is a soft, malleable, and ductile metal with very high thermal and electrical conductivity. It is a reddish metal that occurs naturally in rock, soil, water, sediment, and air. Copper is a necessary micronutrient and is needed in trace amounts for good health but too much copper in the diet or in drinking water may cause adverse health effects.
Zinc
Zinc is a chemical element with the symbol Zn and atomic number 30. Zinc is a slightly brittle metal at room temperature and has a shiny-greyish appearance when oxidation is removed. Zinc occurs in small amounts in almost all igneous rocks. In tap water, the zinc concentration can be much higher as a result of the leaching of zinc from piping and fittings. Acute toxicity arises from the ingestion of excessive amounts of zinc and may cause adverse health effects.